Starplus Awards and Shows
Billu Barber (2009) DVDRip Bollywood Watch Full Movie
03-03-2011, 11:23 AM
(This post was last modified: 03-03-2011 11:24 AM by FunMelaMastiER.)
FunMelaMastiER
Administrator


Posts: 1,187
Thanks Given: 5
Thanks Received: 17 in 16 posts
Joined: Mar 2010
Billu Barber (2009) DVDRip Bollywood Watch Full Movie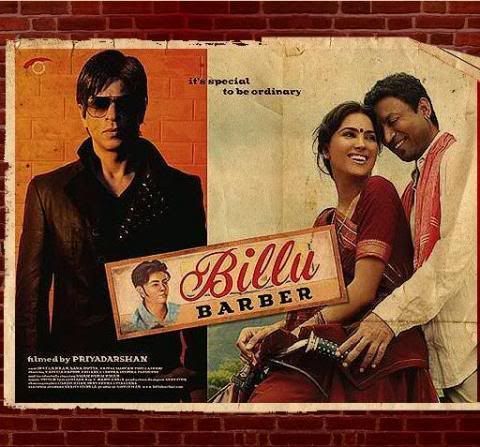 Billu Barber Movie Review and Watch Online
Billu Barber or Billu, as many would say, especially people from the Salon and Beauty Parlour associations, is 'delightful', if I've to describe it in one word. Starring Irfan Khan, Lara Dutta in the lead and with Shahrukh Khan in a supporting role, Billu Barber is a perfect film to watch in this love season.
Synopsis
Directed by Priyadarshan, and produced by Shahrukh's own production house, Red Chilies Entertainment, Billu Barber is a film about a barber, Billu (Irrfan Khan), living in a village called "Budbuda" in Uttar Pradesh. Along with him, there is his wife Bindiya (Lara Dutta), their two kids, and a whole village which is filled with nincompoops. Billu's life is not that great, to say the least, he has no money to pay the fees of kids education, no money to buy new chair, scissor, and even a comb for his shop. But, the optimistic Billu carries on his life until Sahir Khan (Shahrukh Khan) comes to the village for shooting.
The whole village goes crazy and the word goes around that Billu and Sahir are childhood friends. And this is when the whole life of Billu turns upside down. People who never helped him suddenly start showering him with favors, even the school authorities who are ready to pay the fees from their school fund, but only on one condition, Billu has to talk to Sahir and invite him to their school function. But our Billu is too ashamed to go in front of him.
Story is simple
The story of Billu Barber is simple, and that was what required for this film. It's also predictable and you can guess the ending of the film before even entering the cinema hall but you'll never lose your interest in the film, particularly because of the performances and the witty dialogues.
Script is strong
The script is top notch but with very few flaws here and there. One of the strongest points of the script is that it is straight to point and it never alienates from its main point, which is the difference between the worlds of Shahrukh Khan and Irrfan Khan, which was very essential to create the mood of the film. Billu Barber is filled with many funny moments, especially the one involving Om Puri and Asrani when Om Puri comes to Billu's shop to gift him a chair. I won't tell the scene because if I did then it would kill the fun.
Music is good
Music, as I earlier said in the music review, is very good. Marjani and Love Mera Hit Hit are already chartbusters in the whole India. You Get Me Rockin & Reeling, which sounds average on the first listening is good, too, all thanks to hot Priyanka Chopra. The other songs which shine are Billu Bhayankar and Jaoon Kahan. Ae Aa O was really not required in the film. Background score was above average.
They censored out the words "Hajaam" and "Barber" from the song Billu Bhayankar which really killed the song. I don't see what's so bad about these words.
The Three Divas
If you've Kareena Kapoor, Deepika Padukone, and Priyanka Chopra doing item numbers in a single movie then whistles are always expected and that is what exactly happened when all three came on screen. Out of all three, it's Priyanka who takes the cake. Priyanka is hotness at its best in "You Get Me Rockin & Reeling". The whole "glamour quotient" which was absent in the film was fulfilled with these three songs.
Outstanding Performances
Irrfan Khan, as Billu, shines in the movie and is the show stealer. Appearing as a lead actor in a commercial film for the first time, Irrfan Khan gives his best and it shows on screen. He is undoubtedly, one of the best actors of our time, and is no longer under-rated. Watch out for that scene when he calls in Shahrukh's hotel in hope to talk to him, and check out his expressions and the modulation in his voice, mind blowing!
Lara Dutta is amiable in her role and shows her acting talent. The other heroines who refused the role might be regretting it now after watching her performance. The child artists playing the kids in the movie are confident and their comic timing is perfect. Their relationship with Irrfan and Lara looks authentic.
Om Puri, Rajpal Yadav, and Asrani are good, too. They handle the comedy department of the film very well.
The Last Twenty Minutes
It's the last twenty minutes when Shahrukh comes and drop the "emosanal (emotional) bomb" on you when he gives a speech to school kids where he recalls his childhood days and his friend Billu. Role of Shahrukh is not that big and in most of the part, he is playing himself. But at the end, he shows why he is the best actor in Bollywood, along with Aamir Khan, and why we cry every time he gets emotional.
That speech and the meeting of Irrfan and Shahrukh is the high point of the movie. Often we see people talking on their cell phones during the movie, but in those 20 minutes, no one talked. If they were getting calls, they didn't answer it. Those 20 minutes truly absorb you in the movie, and it makes sure that you cry.
Negative points of Billu Barber
If film lacks somewhere then it is the first half of the film, maybe because the attention given to the role of Shahrukh Khan which was not required. First half should have been totally about Billu and his life and how he copes up with all the stress.
Dubbing is also not good, you can clearly see them saying things which are not audible and the timing is not perfect. It's the high time we adopt the sync sound technology and trash the dubbing system. Editing could have better and some places. Background score could have been better especially during the ending.
Verdict –
Billu Barber is a very simple, sweet and innocent film portraying the power of friendship. It's undoubtedly Priyadarshan's best work till date. Billu Barber belongs to Billu, Irrfan Khan, for his powerful performance, and he is, indubitably, one of the strongest contenders for the best actor award next year. Lara Data and the supporting cast shines in their roles.
Shahrukh Khan in his small role hits all the right notes and he plays his best cards during the ending where he lifts the standard of the movie to a whole new level with his powerful speech.
Billu Barber is a must watch film, especially since it's released near Valentine's Day.
Take your friends, girlfriend, boyfriend, or your family along with you and enjoy this sweet film.
Cast – Irrfan Khan, Lara Dutta, Shahrukh Khan
Music Director – Pritam
Movie Director – Priyadarshan
YouTube Alternative Links Click on the Links Below to Watch the Movie

Billu Barber (2009) Bollywood Movie DVDRip Full movie YouTube 1of5
Billu Barber (2009) Bollywood Movie DVDRip Full movie YouTube 2of5
Billu Barber (2009) Bollywood Movie DVDRip Full movie YouTube 3of5
Billu Barber (2009) Bollywood Movie DVDRip Full movie YouTube 4of5
Billu Barber (2009) Bollywood Movie DVDRip Full movie YouTube 5of5
03-22-2011, 04:02 AM
Mark_ferguson77
Newbie


Posts: 10
Thanks Given: 0
Thanks Received: 0 in 0 posts
Joined: Mar 2011
RE: Billu Barber (2009) DVDRip Bollywood Watch Full Movie
Billu is a good film.
It has a very good story & good performances by Irfan Khan & Shahrukh Khan
---
To be successful, you have to have your heart in your business, and your business in your heart. ~Thomas Watson, Sr.
05-17-2011, 05:10 AM
Aleeshan20kat
Newbie


Posts: 10
Thanks Given: 0
Thanks Received: 0 in 0 posts
Joined: May 2011
RE: Billu Barber (2009) DVDRip Bollywood Watch Full Movie
I like its story
So superb Movie.really it is best movie and also its all songs are nice...